UnaVista has admitted a new consulting firm into its Consulting Partner Programme, welcoming Varrlyn as its first partner in the Benelux.
The global technology vendor – part of the London Stock Exchange Group – launched its Consulting Partner Programme late 2018 to give its clients access to a vetted community of consultancies that have deep knowledge of UnaVista's solutions and a demonstrated heritage of successful delivery.
The latest to be admitted into the programme is Varrlyn, a boutique consultancy based in the Netherlands but with a track record of delivering IT system implementation projects (mainly in capital markets) for financial institutions in Amsterdam, Brussels, London, Paris, New York, Frankfurt and Sydney.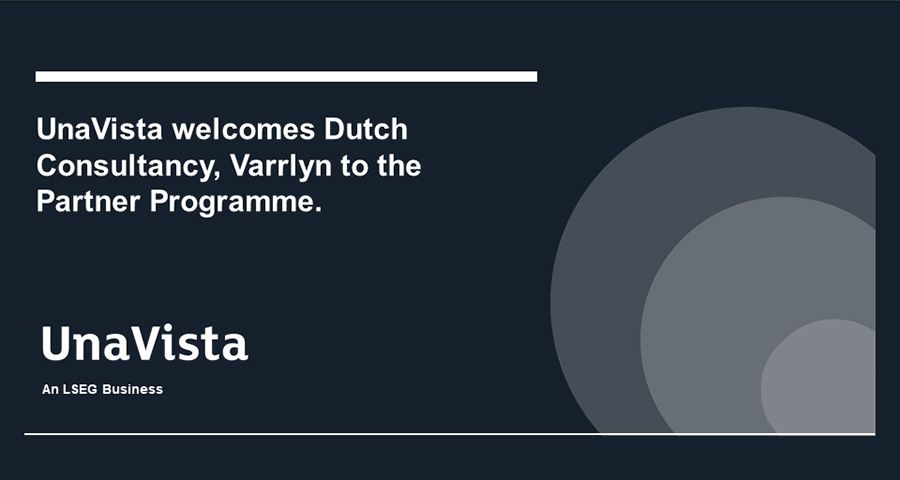 "We are delighted to have Varrlyn on board as our first Dutch consulting partner. It further strengthens our European footprint and enables companies that wish to learn more about UnaVista and benefit from our services, to do so through their trusted channel," said Michael Leach, Global Managing Director of Business Development at UnaVista.
The partnership comes shortly after UnaVista established a European headquarters in Amsterdam to enable it effectively provide trade and transaction reporting services to its European client-base with minimal disruption following Brexit. The move forms part of UnaVista broader expansion drive across Europe, with a growing number of clients adopting its solutions to streamline their operational and regulatory risk.
With over 60,000 users, UnaVista is one of the world's most used platforms by financial institutions, energy companies and corporates for complying with regulations including EMIR, MiFIR and SFTR, and for enhancing their risk management processes. UnaVista offers its clients reporting solutions, a repository of reference data and analytics.
Varrlyn, which becomes the fifteenth member of UnaVista's Consulting Partner Programme, will serve as a consultant to those considering connecting to UnaVista's platform or trade repositories, and as an implementation partner.
Commenting on the milestone for the firm, Varrlyn's Cherien van Ampt said: "We're pleased to have joined UnaVista's Consulting Partner Programme, which builds upon our regulatory reporting offering to our clients. We look forward to working with UnaVista to support our clients, helping them to meet their regulatory reporting needs."